8 Types of Trending Contents on Lemon8 in Malaysia
Posted on October 20, 2023
Written by Norhaliza Yuhannif Faisal
Hi SushiVid Fam,
Remember that time when TikTok was deemed a national security threat by the US Government? When the news that TikTok would be banned spread, there came an app that was introduced as an alternative, and it quickly became the number one most downloaded app in the US a month after the news broke. The app is Lemon8, a social media app owned by ByteDance, who also owns TikTok. At a glance, Lemon8's content can be likened as a lovechild of Pinterest and TikTok, with additional editing functions like Canva. Its main attraction is definitely its easy editing functions that allow users to cutout images and cute stickers without having to go to another app.
In this article, we compile eight trending contents from Lemon8 users in Malaysia, by showing you the trending hashtags with most views on Lemon8. Please note that this list is not arranged in order of view count.
1.

#StudyHacks
We start off with #StudyHacks
which has over two million accumulated views
.
With its cute and aesthetic editing,
Lemon8 easily captures students' attention as they
find it easier
for users
to share
study
tips
such as preparation for exams, where they can show their note-taking method for class
.
C
ampus life contents are also highly popular, where students share guides on how to survive in internship, daily necessities that they might need in dormitories, and some useful student incentives that can be
utilized
such as students' discounts and claimable government
assistance
like e-Belia through Touch n' Go.
2. #WomenHealth
From our observation, a large bulk of Malaysian Lemon8 users consist of women compared to men. Thus, it is no wonder that content that revolves around women are trending. In the topic of #WomenHealth, the users are sharing tips for menstrual health which include recommendations on medications for menstrual cramps as well as some useful tips and tricks to alleviate menstrual pain.
Other than that, this topic also brings attention to necessary checkups (PCOS and pap smear that should be done every 3 years) and gives explanation on reproductive health concerns.
3. #HealthTips
As #WomenHealth focuses on women health issues only, the topic #HealthTips is broader in its coverage of health issues. In this topic, users are sharing tips on health and wellness, such as efficient but safe diets, which is attractive to the audience seeking tips on weight loss.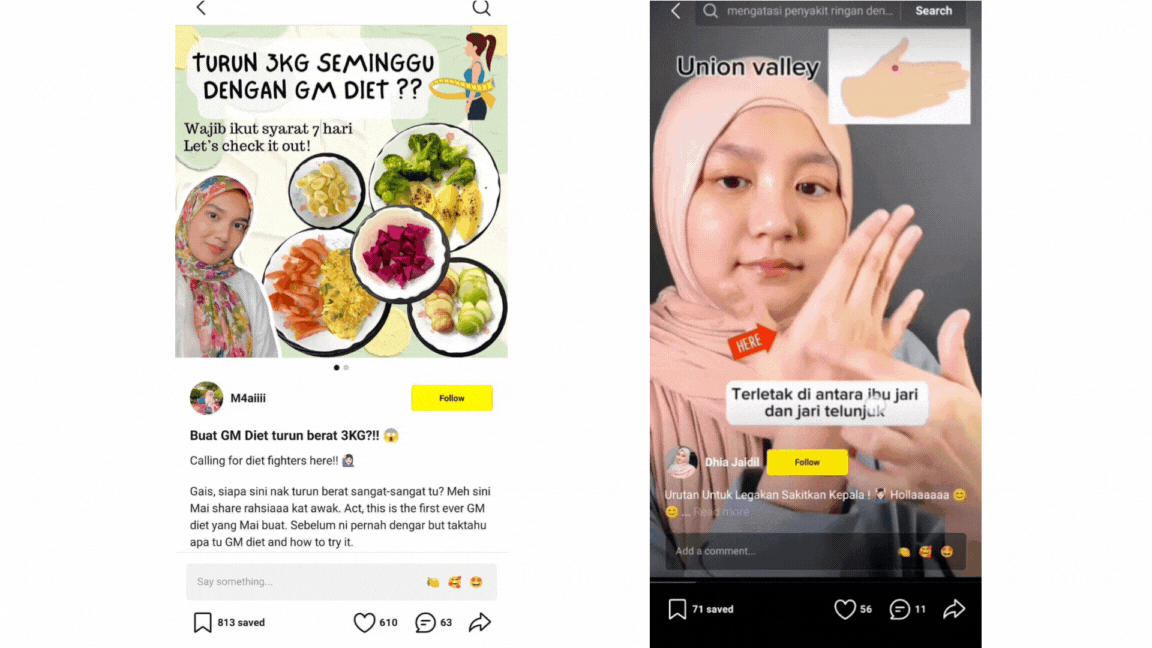 Users also share content related to recommended medications and hacks for dealing with common issues like headaches and muscle soreness. Another trending content in this topic is recommendations for people who are trying to lose weight, which includes contents on easy and beginner's exercises demonstration.
4. #WeddingInspo
The next trending content on the list is #WeddingInspo with almost a million accumulated views. With the coming school holidays in a few months, it's not a surprise that this topic has generated significant interest in Lemon8. In the app, users are using the hashtag to share their guides to wedding and/or engagement preparation.
I noticed a certain trend these days where young couples are no longer interested in lavish wedding ceremonies and would try their best to cut costs by DIY-ing some of the decorations. Here, Lemon8 has come to the rescue by allowing users to share their budget-saving tips for weddings in cute and easy to understand graphics. Wedding shoot ideas are also gaining quite an audience, as there are tips on where to get the nicest shots for your pre-wedding photos and some poses tips for the couples.
5. #DateIdeas
I think Lemon8 might just be the perfect app for couples as there is so much content about relationships here. The topic #DateIdeas is huge on Lemon8 with over a million accumulated views. In this topic, users are sharing fun dating spots or couple activities that you can do with your partner. Users also share interesting travel places that are budget friendly for young couples.
If you're single and feeling left out amongst all these couples, fret not because this trend includes solo date ideas that you can do, and how to make yourself happier with some self-care tips.
6. #Lemon8BodyShape
Being an app that places emphasis on the aesthetic quality of the post rather than quantity, it is normal for fashion content to climb to the top in terms of trending content. One of the trending hashtags is #Lemon8BodyShape, where users are sharing fashion tips on how to dress according to your body type. Lemon8 recently launched a new feature where you can find out your body shape by answering a simple quiz. This new feature can be found when you press the icon on the top left of your Lemon8 homepage.
I tried the function for myself, and it's really helpful to know what outfits would look flattering on me.
No matter if you have pear, hourglass, or rectangle body shape, there are posts to help you out with showing the suitable outfit ideas that are flattering for your body. What is even more helpful is that many of these users even provided their height and weight in their profile bio as a reference for their followers.
7. #MyLifeJourney
An interesting hashtag that caught my attention is #MyLifeJourney that has around 1.4 million accumulated views on Lemon8. Within this hashtag, users are sharing their early years of childhood to present moment of growth and transformation, as well as their glow up journey, be it with their skin or successful weight loss. Through these contents, users can connect meaningfully with others as they share their stories about the ups and downs in their lives.
8. #TipsDapur
Finally, what are social media without some good 'ol cooking content? Lemon8 is not an exception, where the hashtag #TipsDapur is widely used that it has garnered accumulated views of 757.4k views. As the name suggests, the hashtag consists of content revolved not only around cooking, but also useful kitchen hacks such as the most efficient way to store ingredients. There are also contents that put emphasis on tips to maintain kitchen cleanliness and hygiene especially to avoid unpleasant odor and pests. Unsurprisingly, this hashtag also contains posts on meal prepping, one of the trends these days where people would prepare meals in bulk for a week, so it is very time saving for career-oriented individuals who still wished to enjoy home-cooked meals.
In conclusion, although Lemon8 is known as a social media app, its users have utilize it so well that it turns into a truly informative app. Brands should start paying attention to the potential of Lemon8 to grow rapidly in just a short period. With Lemon8's potential and being a relatively new platform, brands could be the early adopters to establish their presence before the platform gets oversaturated with competitors.
If you'd like to know about the trending topics of other platforms, check out our article on Trending Contents on TikTok HERE. Its much overdue but some say old is gold. 😊