[Proposal Series] Titan x SushiVid
Posted on May 6, 2018
The famous Neelofa has her very own watch range?! Find out how Influencers come in handy this time... Get it?

What we do here in SushiVid, we help brands create hype on social media at scale through micro-influencers. Celebrities standards are hard to uphold so why not go for someone more real and that we all can relate to?
So, when were asked to create a proposal for THE Neelofa we were psyched and we're pretty sure our Influencers were too!
What would a proposal be without some validation of our past work?
We're grateful to be able to work with so many Brands and we can't wait to work with many more in the future.
It was a great opportunity for us to be able to create this Neelofa x Titan campaign as Titan is a listed company in India and is well known all around the world.
Our concept for this campaign was Subtlety. This campaign was more about bringing awareness to the Neelofa x Titan range and we wanted it to revolved around our Influencers' OOTD.
It's to show how the watches compliment any outfits they wear whenever they wear it too!
Ladies love checking out OOTD as it inspires us to see how these fashionistas look so fabulous all-day everyday. We would generally assess what they're wearing from head to toe- accessories included.
Neelofa is widely known celebrity especially in the female Malay market and we would like to amplify this by having influencers, specifically hijabsters, to incorporate Neelofa's range of watch into their daily OOTD- subtly of course.
The strategy behind this is to have each influencer post two separate posts. One post in week 1 and another in week 2.
We also wanted to include bloggers. Have them do a write up all about Neelofa x Titan watch. Just to let their avid reader audience as well as others who are interested in knowing more about Neelofa's new watch range.
Postings for Instagram and Blog would look something like these samples.
Just a casual fabulous OOTD post on influencer's Instagram but with a clear view of the watch they're wearing. However, in case some might've missed the subtle hints, the caption will highlight on the watch with necessary tags and hashtags.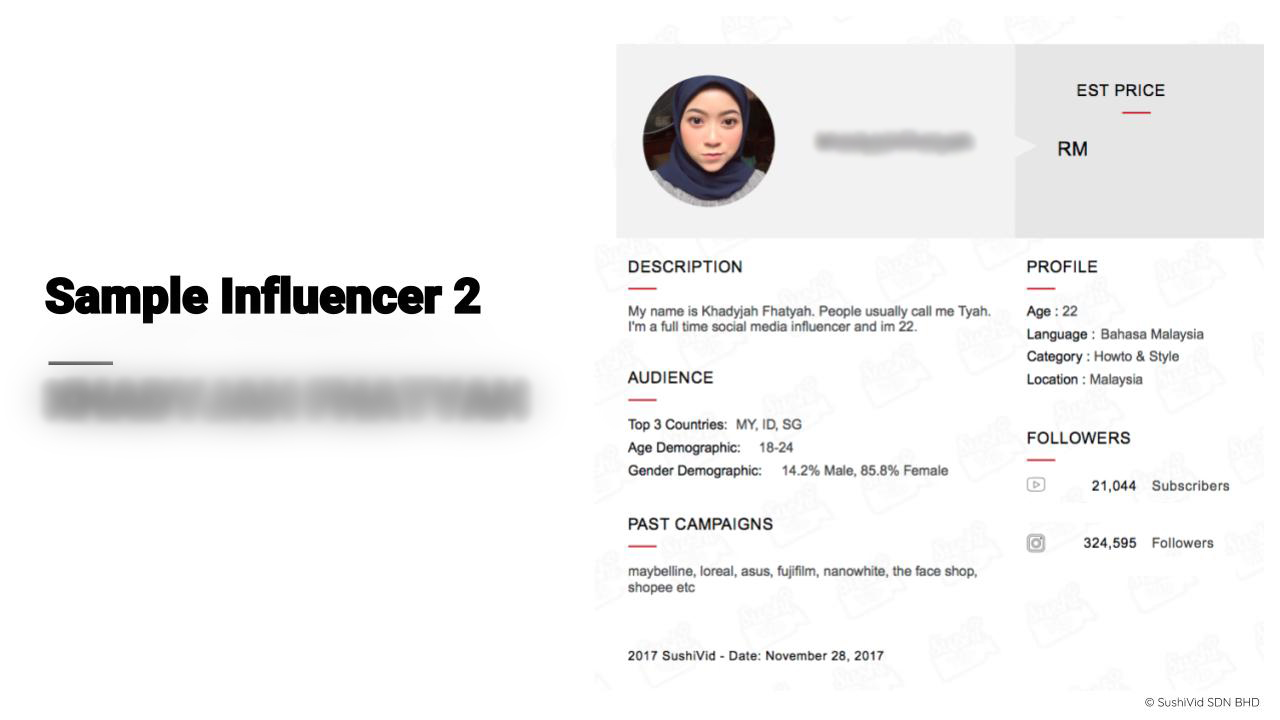 These are a couple of Influencers that we planned on approaching. They are beauty and lifestyle Influencers who always slay their OOTD. Wearing the watch would definitely complete their fabulous looks.
They're fun, beautiful and takes the best OOTD so we thought these kinds of Influencers would best fit the category!
What better way to amplify the awareness than to add on some social seeding too.
We've created a separate package for the social seeding costings. What social seeding does is showcase quality content on highly visible social media platforms such as email, blog, portals and etc. It'll increase the chances of the public coming across this news even though they do not follow the Influencers specifically.
The best part is that all likes, shares and followers are all organic! If a brand posts a content and needs certain engagements, that content will be either shared or like and not only that, if brands want to boost a page following, social seeding can be used for that too!
You can read all about social seeding here