What Is Clubhouse? Why Is It So Popular? [Infographic]
Posted on January 4, 2022
What is your first thought when we say Clubhouse? The clubhouse we are discussing today is not the one with the mouse but the Clubhouse - a drop-in audio-based social media app that went popular during the pandemic.
Unlike other social media, joining Clubhouse is not so easy. This is an exclusive invitation-only application, so you need to get an invitation from an existing user to join. According to the latest news in June, the Clubhouse has launched the Android version, so now more users are looking forward to joining the community!
The application does not require users to post pictures or text like mainstream social media platforms, but allows users to communicate and interact through audio. User privacy is protected, and the discussion content will not be saved after the end of the discussion. Everyone has the opportunity to share their thoughts and arguments.

As a newbie in Clubhouse, it might be a little confusing at the lingo they are using on the platform. Let's learn some of the basic Clubhouse lingoes so we can explore the platform smoothly.
Clubhouse has about 2 million active users every week, which is very popular considering that the app was only launched last year. The main reason for its popularity is its timing. During pandemics and lock-down, people seek for communicating and this application makes it possible to have virtual conversations with new people. Then, their invitation system makes users who join the application feel special, so more and more people want to join and even willing to buy the invitations.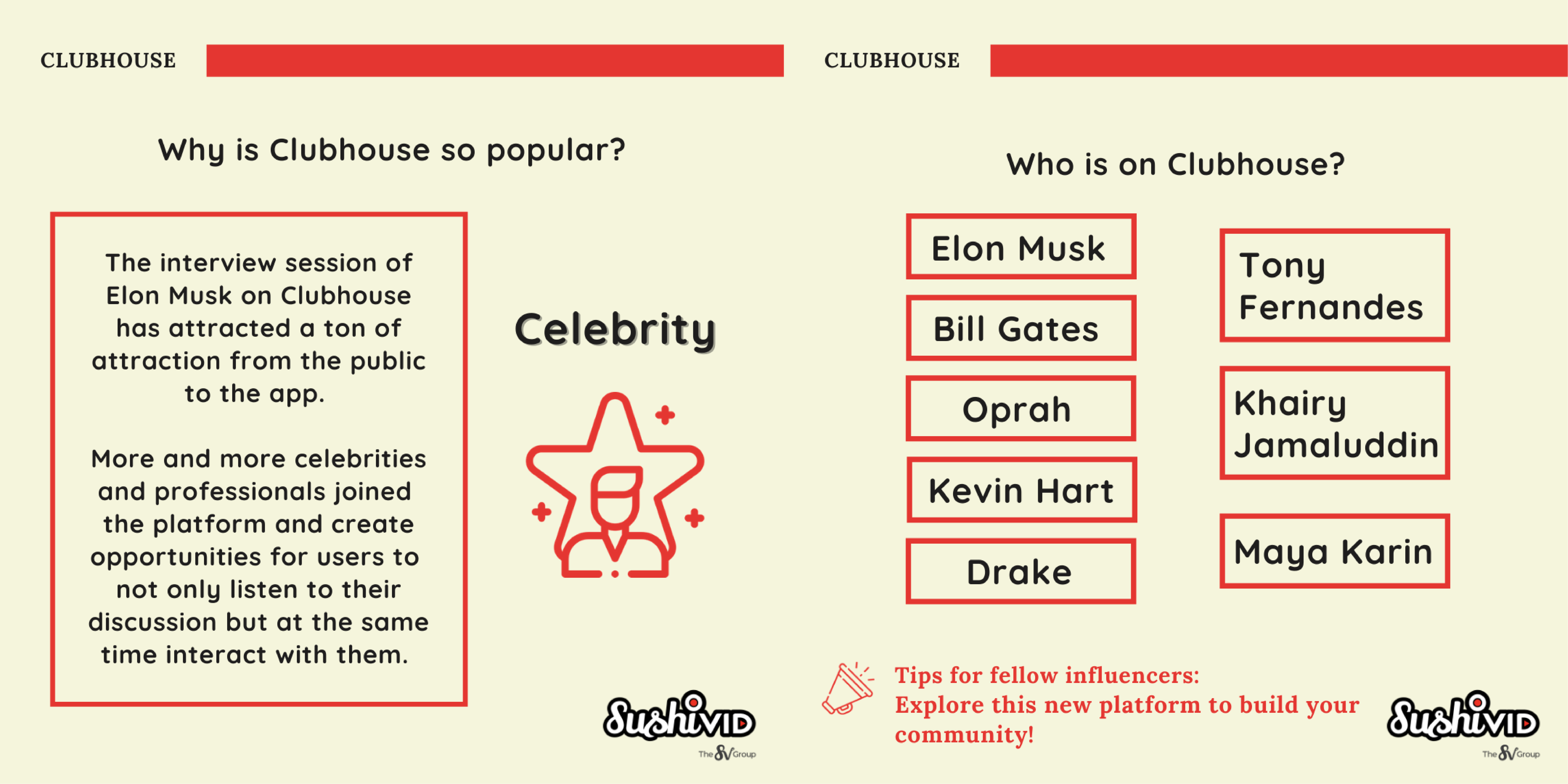 The first breakthrough for Clubhouse was probably when Elon Musk, CEO of Tesla and SpaceX appeared as a guest speaker in one of the talk show. Since then, it draws the attention of the famous public figure to join and boom, now everyone wants to join. In Malaysia, we have Tony Fernandes, Khairy Jamaluddin and more professionals are on Clubhouse and occasionally host their talk shows. Influencers and brands can explore and use this platform to build their community as well.