How Social Media Can Be A Positive Force for Change
Posted on June 17, 2019


You have to wonder what kind of a world we're living in when a kid shows their teacher the clock they made and suddenly ends up being arrested. But, that's exactly what happened to Ahmed Mohammed, a 14 year old from Texas, United States. Shocking as this whole tale is, it has also been the catalyst for some major gestures from major players, who have reached out to Ahmed by the power of social media.


Everyone from Barack Obama to Mark Zuckerberg, NASA and the Google Science Fair tweeted invitations and support, accompanied by the trending #IStandWithAhmed. It's enough to give you goose bumps and a pertinent reminder that social media can be a positive force for change.


Here we profile our five favourite feel-good social media moments and campaigns.

Global Goal Selfies


We've all heard The Chainsmokers ode to the trivial selfie culture. But what if your selfie could bring positive change and shape the future? What if your selfie could "eradicate extreme poverty, fight inequality and thwart climate change?"


With the United Nations meeting on 25 September 2015 to decide on 17 new goals for improving the planet, they are calling on all of us to do what we can to instil the goals in the global consciousness. The theory is: "the Global Goals will only work if we can make them famous. If the goals are famous, if we can tell everyone about them and make sure our politicians know that this is what we want, they won't be able to just shrug them off or avoid them, knowing it will only be a couple of people who actually read until the very end of the newspaper who'll actually care."

So, can a selfie change the world? Let's hope so!


Get Well Soon

Hands up those of you who are guilty of a bit of cyber stalking before a date? Yes, that's most of us. Well, in 2013 those kids at Kleenex got on the bandwagon too. Their marketing agency, Smoyz, trawled Facebook for the standard FML posts that crop up when people get sick. Targets identified "they used their online connections to obtain these users' postal address and went on to send them specially prepared "Get well soon" Kleenex kits to help them feel better."


Sure, it was a marketing campaign and didn't have as lofty goals as the UN, but that dose of kindness was just what the flu ravaged individuals needed (and also turned out to be mightily successful as far as campaigns go).


Rainbow Profile Pictures

Following the US Supreme Court ruling on marriage equality, 26 million people used a simple Facebook tool to change their profile picture to a rainbow setting. It was a massive and encouraging show of solidarity for an issue that still divides so many across the globe.


BuzzFeed Lists

Sometimes the world just feels a little bit hard, leaving us dwelling in #dontwanttoadulttoday territory. It's for those very days that BuzzFeed was invented. Whether it is work or the news leaving us a little blue, they're bound to have a quiz or list that will put the smile back on your dial. One such list is their famous "21 Pictures That Will Restore Your Faith in Humanity." It has been suggested by Time Magazine that it is the very nature of social media that is driving these positive stories with researchers "discovering that people want to create positive images of themselves online by sharing upbeat stories."


Challenges

2014 saw a raft of challenges sweeping the internet, though not all were for the greater good. Whilst the Ice Bucket Challenge and No Make-Up Selfies were driven by good intentions, it is uncertain whether they achieved their stated aim. Interestingly then, it was the ridiculous and harmful NekNomination challenge(a social drinking game, where the person tries to drink the beer in a gulp and then uploads it to the social media) which spurred goodwill. Seeing no challenge whatsoever in downing a beer, South African Brent Lindeque saw the challenge and raised it one charitable act of kindness. In the touching video which took social media by storm, Brent delivers a sandwich, a bottle of coke and a chocolate bar to a homeless man, before challenging his friends to do the same. Statistics ran throughout the video which revealed the extent of poverty and desperation in his country. What a better way to raise awareness than to just down beer.

Problems Awareness

If you use social media daily, you might find a pattern of activities amongst other users. For example, currently you can see profile pictures of people turn blue. It is a way to express emotional support to Sudanese protesters in the wake of a brutal crackdown that killed dozens of people in the capital, Khartoum.
The blue wave has taken over various platforms with a hashtag #BlueForSudan. Mohamed Mattar's, one of the victim's favourite colour was blue, so Instagram and Twitter users try to honour his and other victims' memory by changing their profile pictures to blue. In our opinion, this is a good way to spread awareness of the problems that need more attention, which can attract some sort of solution or at least help to the victims.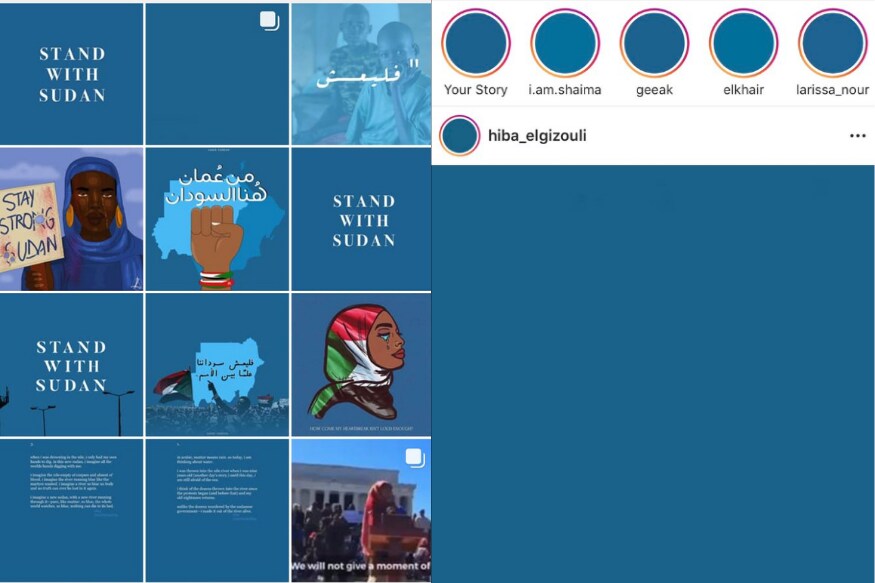 Also, check out our post on the 9 most popular types of videos on YouTube!

Brought to you with love and hugs - www.sushivid.com